Have you ever considered how much space your emotions occupy?
Last year, I went through months of asking hard questions of some people I love. I had a knot in my stomach from the upheaval it caused.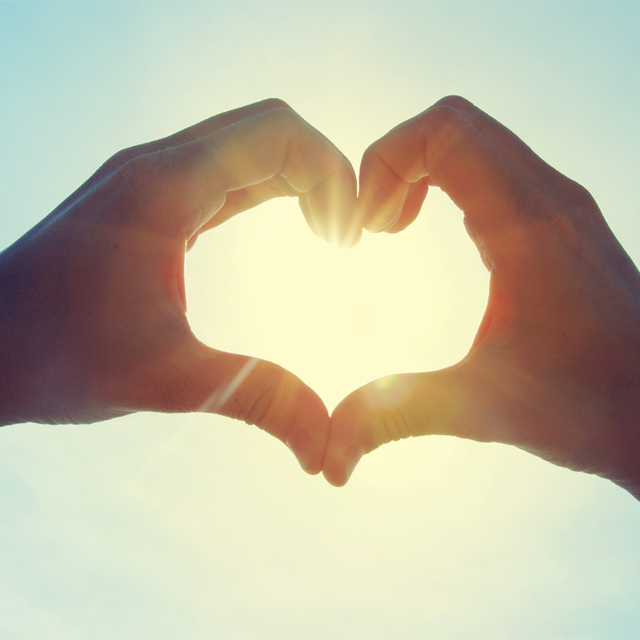 But slowly, I found answers, and peace with the people I loved. The knot in my gut eased.
"You'll have more energy now that you've confronted these issues," my therapist said one night.
"You think?" I said.
"Oh, unasked questions take up a tremendous amount of space in your heart," she said.
I nodded, hoping she was right. But I didn't think about it much until a few months later, when I realized my sleep habits had changed. Instead of needing at least nine hours of sleep a night, I now felt rested with less than eight.
Those emotions required an hour a day of my energy. The realization shocked me. When we talk about simple living, we usually think stuff. Fewer possessions, less spending, more free time.
But just as important are the simplifying of our emotional lives and the decluttering of bitterness. The intention of asking questions. The hard simplicity of forgiveness.
Here are three approaches that have helped me shed emotional baggage and lighten my load:
1. Ask questions.
My husband and I took a marriage course a few years ago, which led us through a lot of healing conversations. Vivid in my mind is a question I asked about the postpartum depression I suffered after my first child was born, six years before.
Back then, my depression didn't manifest as sadness. No, I felt angry. And a lot of my anger got aimed at my husband in ways that weren't okay.
In the class, I asked him, trembling, "Have you forgiven me?"
He looked surprised. "Yes," he said. "A long time ago."
Turns out I'd carried the weight of my shame for years after I'd been forgiven. Only by asking that frightening question—and risking hearing a "no"—did I find freedom.
Of course, I was afraid of hearing no. But even he hadn't forgiven me, at least I could have taken a next step—figuring out how to reconcile. Before I asked the question, the uncertainty I lived in really was worse than any no.
It's hard to ask scary questions: Would you help? Is this over? Can you apologize? Do you care? We want to stay safe, even if that means being uncertain, or bitter, or afraid.
But not asking questions eating at our insides means living with your insides being gutted. There's no closure, no moving on, no setting up boundaries, no healing. Only a slow inner rot.
Asking the questions that scare us is a hard, but blessed freedom.
2. Practice acceptance.
I wish I could meditate in the car.
I drive my kids swim practice a few times a week. The trip takes about fifteen minutes. Some days, I need all of my Zen mojo to make it home in peace.
How do they make so much noise? Often as not, they fill those few minutes with clicks, taps, bickering, interrupting, and complaint.
Worse, they start singing little repetitive phrases of songs over and over and over, giggling at their cleverness.
My kids are pretty spectacular, but also, um, busy. But I've learned one thing makes the biggest difference in whether we get home in peace.
Me.
Do I decide, early on, that it's okay for them to make some annoying noises, because they are children?
Or do I decide that I'm owed a contemplative spa experience in my car, and raise my hackles with their volume?
Sure, I have to set some boundaries with my kids, but mostly, I can decide to accept them. If a situation is relatively normal, and is contained within reasonable limits, then I can choose to live with it.
That doesn't mean I never get annoyed in the car. But every time I ask myself if I really have to take offense, I pause, take a deep breath and try to let it go.
Not responding to every annoyance adds years to my life.
3. Quit.
If acceptance doesn't work, figure out how to cut your losses.
For years, my husband and I volunteered at a Sunday afternoon worship service for our church. It started out well. But as years passed, fewer people showed up.
He and I kept volunteering even as things went south. We showed up, and showed up—increasingly frustrated.
Finally, the church convened a committee to make decisions. After more waiting, the committee decided to wait even longer to pull the plug.
The dithering angered me. I wrote a scathing letter to leadership, and we stepped down.
That was years ago. And looking back, I no longer feel upset at the church.
What I took as "perseverance" wasn't. It was grumbling bitterness. If the experience of volunteering really grieved me so much, why didn't I step away a year earlier?
Why did I keep doing something that made me feel angry at our church, alienated from our community, and jaded about my faith?
"Quitting" gets a bad rap in our society, but we shouldn't write it off. Perseverance is a virtue, but martyrdom isn't. If a situation doesn't improve, and if you feel more and more bitter, stop.
It's easy to blame leaders, business decisions, or flaky people, but only you can take responsibility for how you spend your time. Sure, advocate for change. But if nothing changes, move on.
Anytime you feel bitterness or resentment, address it. Don't carry that poison one day longer than you have to.
Declutter Your Heart
I realized a long time ago that letting piles of stuff accumulate sapped my life of simple beauty. But it took me much longer to pay attention to my hidden stockpiles of hurt, anxiety, and anger.
When thinking about how to live with intention, managing my emotions has created the most open space. Just like I try to be intentional about stuff, I now view my relationships with more intention too. I'm learning not to shove hurt to the back of my closet, or collect complaints like tchotchkes.
I keep asking myself if I am at peace with the people I love. If not, have I done anything about it? Have I set boundaries if the troubles aren't resolvable? And am I addressing my negative emotions, rather than letting them fester?
I've long loved a house free of clutter. But now I see that having an open heart is just as important.