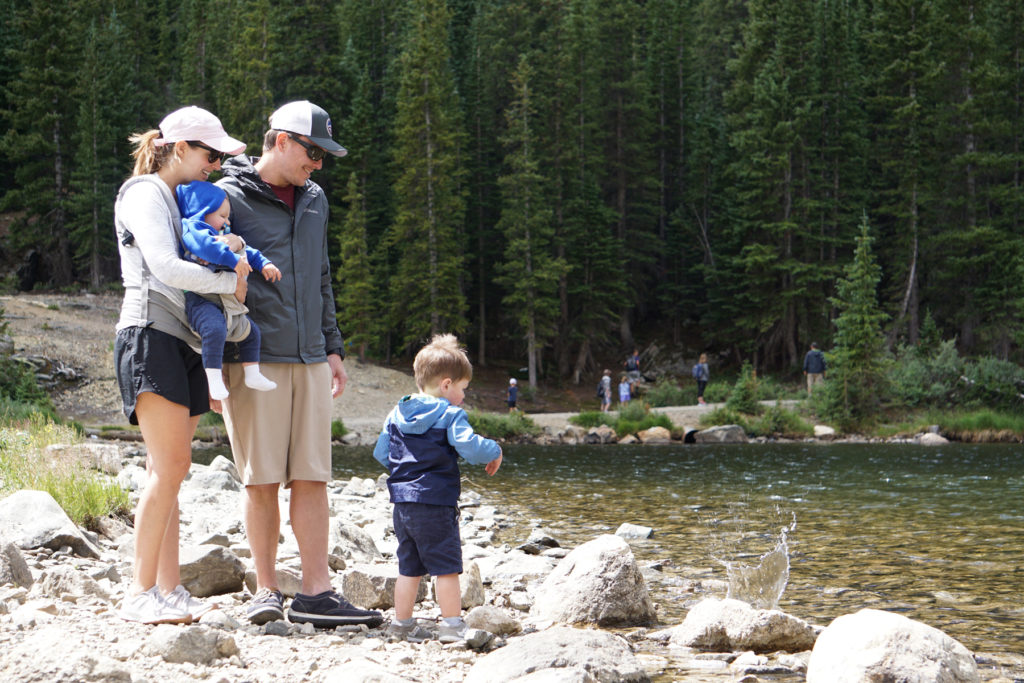 For more than a decade, my family and I have enjoyed the benefits found in embracing minimalism and living simpler lives. Although we didn't know what minimalism really was in the beginning, we made a purposeful decision to own (and pursue) fewer possessions.
The decision to own less was powerful. It allowed us to focus on what really matters—our family, our faith, and our ability to make a difference in people's lives. But our little family isn't the only one that has experienced these life changing benefits.

Through the years, I've set out to help others discover the joy and peace I've found through minimalism. I've heard countless stories from others of how becoming minimalist changed their lives for the better too. Recently, I was inspired to share some of these stories, starting with a young mother who felt helplessly overpowered by stress and anxiety.
Erin Perkins is a wife and mother of two young boys—Joseph, 3 years old, and Jonathan, 17 months old. She and her husband, Alex, live in Alexandria, Virginia, though both are originally from small towns in Kentucky and Kansas.
Around 9 months ago, the new mom of two was feeling overwhelmed every second of every day. But she heard about minimalism at just the right time—and embraced it like a life raft.
Here, in her own words, is Erin's story.
Meet Erin
"Before minimalism, as a new mom of two, I was constantly stressed with seemingly endless things to do. Every time I sat down to play dinosaurs, color, or play with my children, my mind was busy thinking of all the stuff I needed to manage. I could never just be in the moment.

One day my 2-year-old threw a temper tantrum, and it was a wake-up call. He yelled "stop it!" And he had learned that from me.
I became angry at the level of anxiety that was creeping up on my mind every single day. I wanted to create a calm, peaceful environment for my boys to grow and learn. I knew something had to change.
Finding My Path
One day, while listening to a podcast, I learned about minimalism and I was immediately intrigued. I liked what they were saying and felt like I could grab onto a few of the ideas to incorporate them into my daily life.
I signed up for the Uncluttered Course, at first to dig deeper into my curiosity. I had already done some good cleaning on my own. A few closets had less. My kitchen was getting better. The process of cleaning out the toys had begun. But I needed some guidelines, concrete steps, and, most of all, I needed a support system.
In the end, I found the course and the Uncluttered Community to be life changing in the best ways imaginable.
The principles of the course and minimalism have not only helped me to unclutter my home, it's helped me become aware of other aspects of my life that can be simplified as well. My mind was opened to a way of life that I'd been searching for, but wasn't able to clearly define.
The strategies I learned helped me switch my mindset from an anxious, depressed mom of two young boys to a woman who now feels present and calm while playing dinosaurs and reading books before nap time.
Baby Steps
When I decided to simplify my life, I started small. I cleaned out our car, which we already keep fairly clean. Still, it felt good to get rid of things that were causing clutter.

Next, I invited a friend over and she took two hours and dug into a basement closet that was driving me crazy. I would literally start to feel stress and anxiety just thinking about the closest. My friend had taken the course herself and had read The More of Less.

My friend inspired me to ask the questions "Why do I have this item? Is it helping my life? Do I really need it?"
To this day, I don't know what she took out of that closet to Goodwill, but I've never missed a single item. I do know that my basement closet has luggage, out-of-season coats, wrapping paper, and some extra cleaning supplies—and that makes me feel so much better. Instead of feeling overwhelmed by that space, I feel peace knowing it contains items I actually use.
Dealing with Challenges
While I love the results of becoming minimalist, the process wasn't always easy. One challenge I found was that instead of celebrating small successes, I put too much pressure on myself. I was focused on moving quickly, just to get as many items out of the house as possible.

Now I know that I need to go section by section and try not to cram too much "simplifying" into one day. You can't unclutter an entire house in one afternoon, or in my case, one naptime while my children sleep. Minimalism is a process.

I've been working on simplifying and minimizing my home since August of 2018. I have made major steps, but I'm not done. I have to be patient with myself and give myself grace; because as much as I would like to be "done," this isn't a decision that happens overnight.

Rather, I'm slowly changing my mindset and starting to make better decisions.
The Benefits
The biggest benefits I've experienced through minimalism are time and money saved—with time being the most valuable of the two.
To be clear, I don't identify myself as a 100%, full blown minimalist. I sold three pieces of furniture. We have less Tupperware. In my kitchen cabinets I have four plates and four bowls—in a house with four people, that's all we need. I got rid of 50% of my clothing and kept the 75 items that I love and make me feel good.

I'm also buying less, which gives me more time for the things I value most. I still love Amazon, but before minimalism I was spending hundreds of dollars per month. It was starting to feel like a part-time job, managing all the returns and recycling all the boxes. Now, I spend far less and enjoy the extra time even more than the money we're saving.

Minimalism also helped me find homes for many items I used to spend time searching for in the clutter. Once again, this saves me time and energy.

Most importantly, the changes helped me become a better parent. I'm teaching my 3-year-old to get his shoes, and he knows where they live! He takes his plate to the sink after he eats. He cleans up his mess. We're still working on the toy situation, but we've made huge progress.

For example, rather than buying 10 more toys that would end up at the bottom of our son's toy box, for his third birthday we signed him up for swimming lessons. We also found a zoo excursion Groupon for his "potty training success" gift instead of another toy to manage when, quite frankly, he doesn't need any more toys.
We even watch less television. We canceled cable and subscribed to PlayStation TV. It saved us $100 per month, plus we don't watch nearly as much television. That in itself feels rewarding.

It may sound cliché, but through all these changes I've learned that less is truly more.
How to Start Your Own Journey
For me, I had a voice inside telling me that I needed to simplify my life. I found help by seeking out a community of others who were going through the same journey. My family has only felt better and more at peace since I started to implement minimalist ideas.

If you too feel the need to simplify your life, my suggestion is to dive in with grace and patience. Allow yourself time and enjoy the benefit of each small change you embrace.
Looking back, I see how minimizing has allowed my mind to have space for the things that matter most to me, but I'm not done yet. A minimalist life is a journey, not a destination, and the journey is truly rewarding.
To find out more about the 12-week Uncluttered Course, click here.