"Human beings can only truly cherish a limited number of things at one time … that is why I want to cherish properly the things I love, and that is why I have insisted on tidying so much of my life." — Marie Kondo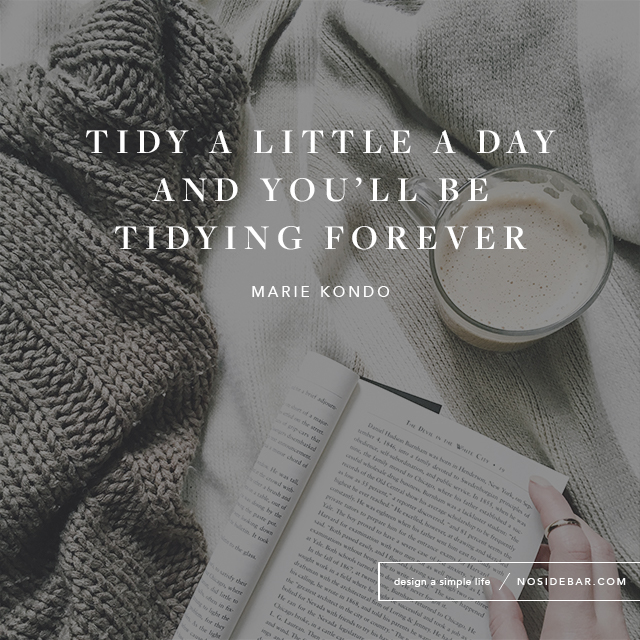 This weekend, I took the plunge and "Kondo'd"my entire house. Several of my friends had been raving about the book The Life Changing Magic of Tidying Up by Marie Kondo, so I dove in on Friday night after the kids were in bed.
When Marie Kondo asks you to identify what "sparks joy" in the book, it can seem a little odd at first. My husband looked at me sideways when I began reading pages from the book to him. We were both a little confused, but we started in anyway.
Taking the time to empty out our entire closet seemed extreme, but when I took the time to hold each item and considered how it entered my life in the first place, the process became transformative.
What Brings You Joy?
I began to sense a shift in the atmosphere—Marie might be on to something. Suddenly, minimalism wasn't necessarily about what I needed to get rid of—it was about keeping what I cherish.
Instead of seeing all the stuff in my house as simply junk that needed to be cleared out, I remembered how it came to me, what purpose it served, and was able to be grateful for it. Even when I decided it was time to part ways with it, I did so with a sense of gratitude and peace.
When it comes to minimalism, so much of the conversation is about "stuff," and simply about getting rid of said stuff. We see it in aggregate terms—the accumulation of it, the piles, the clutter, the excess.
We are unable to see items individually, and it can be difficult to know how to relate to the things we actually choose to keep.
We tend to feel so much shame around how much stuff we have, and the whole process then becomes a practice in feeling bad. Reducing our material load isn't going to do us any good if we do it out of a sense of guilt or obligation.
After eight bags of trash and six bags of Goodwill donations, my house literally felt like it had lost weight, and I was feeling pretty good. But it wasn't just that.
The Joy in Owning Less
The items that remained in my home were the ones that made me the happiest. They each had a place, and they were valued.
I didn't have to walk into my closet and see shirts that frustrated me because they no longer fit, or I didn't enjoy wearing them. I didn't have to look at my bookshelf and see books that I didn't even enjoy reading.
Everything just seemed to be lighter, and more joyful.
Once every unnecessary item is discarded, Kondo doesn't stop there. She gives very specific instructions for how to store clothing, socks, and cherished items.
I definitely cannot attest to the fact that my socks are animate objects that need a "break" from their hard work, but taking the time to properly fold them and place them in the drawer gave me a greater sense of ownership.
Paying attention to items I kept more mindfully gave me a new appreciation for them. I never imagined that caring for the items I own in a more intentional way would transform how I view everything I have.
Life, no matter how you slice it, requires some level of stuff. Whether you are living in a tiny house or a mansion, you have to own a few things to get by. Instead of allowing things to serve their purpose in our lives, we hoard them, care for them with little enthusiasm, and place them in a dark room.
Let's change that. Let's start paying attention, and focusing on cherishing the things in our lives that truly bring us joy. The more we learn what we cherish, the more we are able to let go, and keep moving toward a life of meaning.